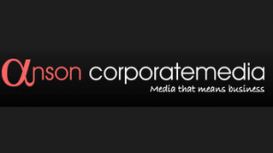 Online marketing becomes many hundreds of times more effective when combined with clever video. Your website can force a visitor to buy a product or get in touch, you can look like a multinational corporation or emphasise the quality of your service. We approach every production by undertaking a detailed analysis of our clients, their marketing strategy, target market, the underlying reasons that their customers ultimately make a purchase, and the purpose a video must serve.
It's fundamentally important. No matter how pretty or well produced, too many corporate videos are dull, uninteresting or worse, have a detrimental effect on how the company is perceived. Video is a core part of a marketing strategy and like any other element, must ultimately contribute to the bottom line. It can contribute perception, confidence, website traffic or actual sales but always, we make sure it actively works for you.
---
Reviews and Ratings
We do not have any reviews about Anson FineArt available right now.